Up next we get a reason why yoshi KO Maryse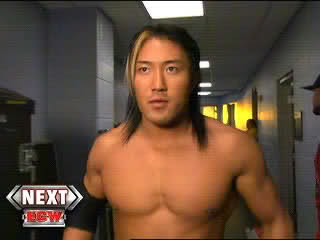 Josh Matthews: Why did you KO Maryse, that women abuse Yoshi, what do you have to say for yourself as RWF is not going to take that sort of thing these days.
Yoshi: Well Well Josh, I aswell knew you fancy Maryse and you can have her as she is a slut, she more like a lita wannabe with blonde hair, i KO her because i can, simple, I do what i want when i want, I am Yoshi, i am no long your puppet, i will not put down by cookiepuss and fruity pebbles fans anymore or cocky rocky fans i am a real wrestler no more, mr. nice guy, he's sick.
Josh Matthews : what about your fans Yoshi, they love you and this is what you show them
Yoshi; Screw them snotnose freaks they don't care about me, let's be honest all you fans you are freaks or gay who likes to look at half naked man, screw you, i will not give you another time to view me or my opponent, as i will KO him early, you should know me now as Yoshi "The KO Machine" Tatsu, I don't care who you are?
Yoshi gonna Getcha You and Knock you Out
(Yoshi Walks out)
Commercial show this promo video