Wade Barrett's theme hits and he enters.
Wade Barrett:
I think Triple H is old and a wrinkly. I accept your challenge.
Samoa Joe's Entrance Plays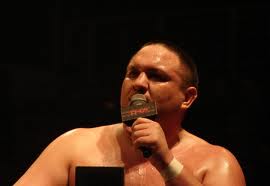 Joe:
Triple H, I'm glad you issued an open challenge. Very brave but i have no problems with you, yet. You do seem a little busy.
*Joe looks up at the tron*
Joe:
My sights are set on you Wade. It appears you're ready for a fight, so how about you and me one on one? Oh and mark my words, I will make you tap.
*Crowd chants: JOE'S GONNA KILL YOU!!!*
*Joe makes his way to the ring*
**********************************************************************

Accomplishments:
3x Tag Champion