The scene opens up with Raven walking to the ring, with a microphone in his hand. He slides under the bottom rope and then sits in the corner leaning on the turnbuckle. He then begins to speak.
RaVen: Look at all of you, Looking at me. Looking at me, like i shouldn't be here. Don't worry about why i shouldn't be here.. Worry about why i am here.. Worry about all your favourite superstars out the back that now have a reason to be scared. This week my name is written on the card.. I am set to stand in ring with one of the hardest if not the most aggressive wrestlers on planet.. a man.. a machine.. an animal.. an indestructible fore.. A individual by the name of.. Brock Lesnar.
Crowd loves it..
**Brock will kill you chants**
Raven smiles..
RaVen: See this is where you are wrong.. you have always been wrong.. you see.. I'm not scared of Brock Lesnar.. actually i am not afraid of anyone.. and you all should know that by now.. i'm not afraid to bleed.. not afraid to hurt.. matter of fact i love it.. i encourage it..... Brock LESNAR.
Raven looks into the camera.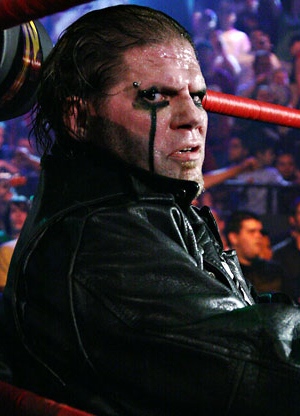 RaVen: This week.. do your very best to stop me.. hurt me.. destroy me.. cause IF YOU DON'T.. the rest of RWF will fall victim to the raven effect.. and that World Championship Title will come home to me.. DREAM BLOOD LESNAR! DREAM BLOOD!
'Quoth The Raven........NEVERMORE!!'
He then throws his arms out in his trademark crucifix pose.