Michael Cole : Here we go folks, a match for the ages right here, Randy Orton takes on Triple H. And what a match this will be! Orton turned on the fans earlier tonight and left a chilling threat to all the superstars in the back. He then went on to play mind games with the entire roster as his theme song hit during a few matches earlier tonight. Most memorably, the match between CM Punk and the big red machine, Kane.
Jerry Lawler : That's right, Kane was just about to hit the Chokeslam on CM Punk when Orton's theme filled the arena. Kane was distracted and took his attention off of Punk, who took complete advantage!
J.R : Advantage is right! Kane didn't expect that GTS at all! I'm sure that Kane will want some revenge against Orton for his mind games. But now, we go on to the match of the night in my opinion as we get to see Hunter beat some respect back into the viper!
The arena goes dark as Triple H's theme hits. The crowd go crazy as Triple H enters the arena and makes his way to the ring. Triple H pauses in the middle of the ring and taunts to the crowd, earning him a standing ovation, which soon comes to a stop as Orton's theme hits. Orton comes out to the arena with his european title across his shoulder, he walks down to the ring slowly as he stares coldly at Triple H. He walks up the steps and takes his time to enter through the ropes, he then walks right up to Triple H and taunts in his face, only succeeding to anger the cerebral assassin. Triple H hits Orton with a strike that sends him to the ground. The bell rings as Orton rolls out of the ring, still staring daggers at Triple H.
Orton rolls back into the ring and the two men lock up in the middle of the ring. Triple H manages to gain the advantage and hits Orton with a quick and painful suplex. Orton quickly gets to his feet and charges at Triple H with a clothesline. Triple H gets straight back up and knocks orton off his feet with a kick to his leg. Triple H ocntinues to work on Orton's legs as Orton tries to break free. Triple H proceeds to lock Orton into the figure 4 leg lock. Orton screams in pain as he struggles to break free. He uses all his muscle to lift himself up and drag himself to the rope, breaking the submission. Triple H picks Orton up and sends him flying towards the ropes, Orton bounces against the ropes and flies back at Triple H, hitting him with a dropkick that sends him to the ground.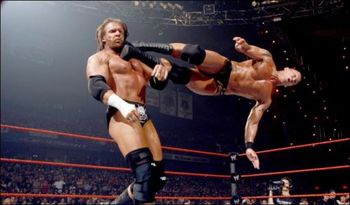 Triple H quickly gets to his feet again and the two men exchange punches in the corner of the ring, until Triple H yet again gains momentum and irish whips orton into the corner turnbuckle with all his strength. Triple H then jumps up to the top corner and hits Orton with 10 successive punches to his skull. Orton falls to the ground, dazed and confuzed as Triple H sets up for a spinebuster. Orton pulls himself up and turns around into a waiting Triple H, he goes for the spinebuster, but Orton manages to reverse into a DDT, which knocks Hunter to the ground. Orton decides to end it quickly and goes for the pin.
1....
Kick out!
Triple H kicks out of the DDT, and orton lifts him back to his feet . Orton grabs hold of the dazed triple H and pulls back on his spine, making impact with the ground. Orton hits his signature backbreaker and Hunter writhes in pain inside the ring. Orton then gets ready to hit Triple H with his finisher. He stalks Triple H as he gets to his feet, following him with his eyes, Triple H turns around and Orton goes for the RKO! Triple H manages to push him away, and Orton turns around dazed right into a devestating Spinebuster! Triple H goes for the pin.
1....
2....
Kickout!
Orton manages to kick out right after the 2 count and Triple H doesn't seem surprised. Triple H lifts orton up and goes for his pedigree, but Orton manages to reverse by throwing Hunter over his shoulders. Triple H hits the floor with an arena shaking impact as Orton stalks him once more. Orton is lying down on the canvas, punching the ring mat, waiting for Triple H to rise to his feet. Triple H pulls himself up by the ropes and turns around into an RKO!! Orton hits the RKO and taunts the fallen Triple H before going for the cover.
1....
2...
Kickout!
Orton can't believe it, he looks on in shock as Triple H manages to lift his shoulder off the canvas. Frustration gets the best of Orton and he runs to the corner of the ring. Orton stalks Triple H once more, who manages to pull himself to a crouching position, setting himself up perfectly for Orton's devestating punt kick! Orton goes for the punt, but Triple H rolls out of the way. Orton turns around in shock right into a pedigree! Triple H hits the pedigree and goes straight for the cover on Orton.
1....
2....
Kickout!
Orton kicks out just before the ref counts to 3. Triple H lifts Orton up and goes for a second pedigree, but Orton manages to push Hunter away, and goes for an RKO! But Hunter manages to reverse the RKO and knocks Orton to the ground with a clothesline! Triple H goes to lift Orton up again, but is taken completely by surprise with another RKO! An RKO from nowhere, Orton goes straight for the pin this time.
1....
2....
Triple H manages to lift his foot onto the bottom rope, breaking the pin fall. Furious, Orton goes to confront the referee. Orton argues with the referee that he made a 3 count, but the referee is having none of it. Orton is distracted and doesn't notice Triple H standing behind him. Orton turns around and Triple H kicks him in the gut, then goes for another pedigree. Orton manages to push Triple H away, and then hits him with an RKO FROM NOWHERE!!! Orton wastes no time and goes straight for the pin
1....
2...
3!
Orton has done it! Orton jumps up and stares at the fallen Triple H. Orton then runs to the corner of the ring and sets up for another punt kick. Triple H pulls himself to a crouching position again. Orton charges at him, but Triple H moves out of the way and throws Orton to the outside. Triple H looks at Orton with anger in his eyes as Orton smirks back and leaves towards the back. The crowd cheer for Triple H and boo Orton as he leaves the arena.