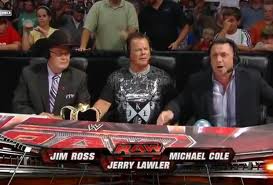 Cole:
Welcome to Raw ladies and gentlemen. We are in for a great show.
King:
Yea we are in Cleveland tonight with a big main event setup.
Cole:
Tonight folks we have CM Punk and the Miz going one one in the WHC tournament.
King:
I can't wait for that. Punk is gonna give Miz an awesome ass kicking.
*Lights go out*
Anonymous Voice:
THEY'RE HEEEEERE!!!!!
King:
He's the Main Event Mafia?
Cole:
Looks that way king
King:
I hope he has answers
*AJ begins to talk*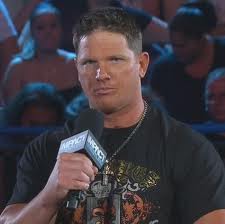 AJ:
For the past week, I have been getting tweets and e-mails saying, "AJ you just don't have it anymore." I am sick of it so I left TNA, the company that I built. I came here with one goal in mind,…… complete takeover. Oh but I am not alone, My band of brothers will show their faces soon enough. For now though, nWo, the Main Event Mafia will tear you apart piece by piece starting with Edge tonight. By the End of the night no one with forget AJ Styles or the Main Event Mafia.
*AJ drops his mic and walks to the back as his theme plays*






**********************************************************************
AJ Styles: 2-4

Anderson: 0-0