RWF comes back from commercial
Micheal Cole: Welcome back ladies and gentleman, This is The Raw Wrestling Federation! and its live tonight right here in Providence, Rhode Island.
Jim Ross: That's right and this city has a great history, King
Jerry `King` Lawler: It's a great city, JR and were at ringside for whats going to be a very busy show tonight from the Dunkin Donuts Center
Jim Ross: There's no doubt about it King, Did you know this is one of the first established cities in the entire United States Of America?
Micheal Cole: ...and we're here in the second week of what might be, the next longest running show on television! And this week, we enter Round 2 in the tournemant for the World Heavyweight Championship!
Jerry `King` Lawler: It's going to be a brawl Cole, every Superstar will be put to test too see who deserves... and maybe wants the title the most!
Titantron goes silent, so does the crowd
The crowd goes absolutely wild
Cole: OH MY GOD... here we go again.
JR: It's Stone COLD, Stone COLD, The Texas Rattlesnake is here!
Stone Cold comes out with his ATV! and drives straight towards the ring as the crowd is still going crazy. Stone Cold drives around the ring and then parks his ATV at ringside and enters the ring, taunting at each post and holding a microphone to speak, as the crowd settles down...
`Stone Cold` Steve Austin: Providence, gimme a hell yeah
The Crowd Cheers "HELL YEAH!"
`Stone Cold` Steve Austin: Got a couple of things i gotta get off my mind before my match against Del Rio tonight, First thing i gotta do, is now bare
with me for a second. The first thing i want to clarify, for all those people in the back who came out here earlier tonight saying this and that about how they'll even beat Stone Cold for the WHC Belt
Crowd Chants "WHAT" as Stone Cold Steve Austin pauses and..
`Stone Cold` Steve Austin: It's not happening, i dont care about the guys in the back and i dont care about their group session therapies together and like ill show it again tonight as i did last week...Is that the Stone Cold will not be stopped untill he gets what he wants!
The Crowd Erupts
`Stone Cold` Steve Austin: And i don't know if all of you in the back heard me, but if you don't understand what I'm saying I always have a little bit of sign language, so here's to ya.
The Crowd absolutely crazy cheering for Stone Cold's behaviour and start chanting "Austin, Austin, Austin"
King: Oh my god, JR he just flicked off everyone in the locker room!
JR: Thats Stone Cold for you! He is one of the toughest SOB's i'v ever known
`Stone Cold` Steve Austin: and dont let me confuse anyone watching here tonight, about what i said that i wanted, because its simple and it goes by the name of World Heavyweight Championship!
The Crowd Chants "Hell Yeah"
`Stone Cold` Steve Austin: Now on to the second thing, my match here tonight is against the Mexican aristocrate, Alberto Del Rio....
The Crowd Goes "BOO"
`Stone Cold` Steve Austin: Now i dont now much about him, But..Stone Cold knows he was one of the reasons he decided to return for the fans everywhere tonight and at home
The Crowd Cheers
Steve Austin: Alberto... Austin 3:16 says I'll whoop your ass
As The Crowd Goes Ballistic
The camera show various angles of the audience attending and crowd signs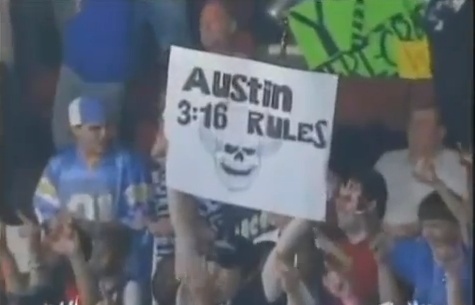 Steve Austin: And thats the bottom line cuz Stone Cold said so!

Theme Song hits in the background as the commerical starts running [END Promo]